| | |
| --- | --- |
| Orly-Porly's Internet Site | 27May2000 |
Hi! I'm Orla Jean. You might remember me from such internet extravaganzas as the baby born one year ago pictured here --->

Naturally I'm embarrassed about such juvenile pictures of myself, but as part of my contract with Kaybay I have to include them so that you'll know who's cool and who's a dweeb. If you can't remember, here are the sordid details of my birthday.......
---

I've had a hectic schedule lately but still have time to throw up a few titbits of my activities on my website in between my various social engagements. Here I am, pictured at my cousins baptism party in some pub in Maynooth last February. David Wright was the new baby in the family back in those days. I'm not so sure about another boy in the family, but I suppose there has to be some boys to show how nice girls are in comparison.Oh that's my Dad dancing with me, by the way.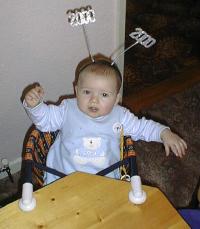 ...Another contract photo, I'm afraid.... scroll down please.....
| | |
| --- | --- |
| I suppose you'll be interested in my news of late. Well, I'm So happy since I started moving around on my own. I can go where ever I want now, Hey I even opened up the stair gate that's supposed to stop me going upstairs and went up to my playroom today - I even remembered to close it behind me. I've also been helping myself to drinks and food. Here's a press photo of me having the first yoghurt I was allowed eat all by myself. I wasn't full up after it. I wanted some more. | |
I started walking recently. I took my first steps in the front room on May 14 while talking on the mobile phone. I guess I wasn't thinking about it and it just happened. But sure once I knew I could do it, I didn't stop. No more inferior crawling around! I thought you might like to see.... There's a couple of snaps from the photo shoot this afternoon (May 27). That's my mum looking on. She's been acting strange lately and her tummy's getting all big and hard. I've been wondering why that is (if you've any ideas, please email me: orla@kaybay.com). Anyway I'm just glad that she gives me all her attention, except for those times that that other baby comes around to visit. I'm SOO glad there's no other baby in this house apart from my excellent big sis, Kaybay.